"Perspective is everything when you are experiencing the challenges of life".
Joni Eareckson Tada.
​I alter my perspective of the world each day. I find wonder in familiar things and recognize the extraordinary nature of ordinary events.

I slow down and notice the miracles that are occurring all the time. Caterpillars transform into butterflies. Tiny acorns grow into mighty oak trees. I become grateful and develop a sense of awe.

The earth provides resources that keep me alive without any effort on my part. I receive food, oxygen, water, and sunlight.

I seek a personal connection with the events I observe. I explore important memories. I think about how I can contribute to the world.

I put aside old assumptions. If I have a disagreement with a coworker, I accept their truth so we can view each other as friends. It does not mean that I have to agree with them. I just have to understand that everyone has their own perspective of life from where they are at.

I pay attention to all my senses. Sights become more vivid and I enjoy my commutes to the job sites because I am grateful that I still have a job and my own business. Sometimes I leave my house real early in the mornings and I observe everything: the sun rising to flood the world with light and warmth, the clouds forming, the fog lifting and all the wildlife that is out forging for food as I also respond to aromas, textures, flavors, and sounds.

Some of my best lessons come from children and animals. I have had dogs and their unconditional love is a constant reminder to love with no expectation of return. Dogs teach me just to enjoy the time that I have with the ones that I love. Right now, I have a cat who teaches me the joy of napping in a sunny spot, with no stress or cares of any kind to trouble my slumber. It is said that if you want to get a new outlook on life, be sure to look, through the eyes of a child. Children find wonder everywhere and teach you to view even the mundane events of the day with awe.

Today I rediscover the world. I look at everything as if it was my first time and I appreciate the significance of all that surrounds me.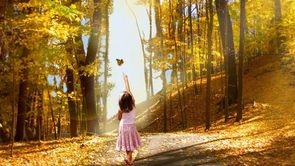 Self-Reflection Questions:
1. What is one amazing event that happens every day that I could stop taking for granted?
2. How does it feel to challenge my old assumptions?
3. What is one routine office task that I could make more stimulating by seeing it with fresh eyes?